Y6 Transition
Important transition dates.
Year 6 students will be invited to the academy on Monday 4th July and Tuesday 5th July for their transition days. (Students are able to use the Academy transport for these days - temporary bus passes will be provided to primaries in the coming weeks)
For information regarding transport, routes & ordering bus passes for September: click here
A welcome letter & Academy email account details have gone to personal email accounts. Further transition information has gone to Academy email accounts including Data Collection/Consents, Parent Pay & Transport (for students out of the local area).
If you haven't yet received anything please submit your email address using this form : https://forms.gle/1uM3qtjiz4HLZJKHA
Please keep checking the website for more information or email Miss Leigh eleigh@theaxholmeacademy.com
We hold an Open Evening every September - a great opportunity to have a look around the Academy and speak to teaching staff and current students. Our Open Evening this year will be on Wednesday 21st September 6.00 pm until 8.00 pm
For any enquiries regarding our Open Evenings please email eleigh@theaxholmeacademy.com (Head of Year 7)
The Axholme Academy Subject presentations
Year 6 Transition - Frequently Asked Questions, Virtual Tour ..........
Welcome to the 'Year 6 Transition - 2022 Intake' section of The Axholme Academy website. We will continually update this section for you reference.
If you have any questions then please feel free to contact Miss Leigh at eleigh@theaxholmeacademy.com
Miss Leigh (Head of Year 7)
Answers to our frequently asked questions can be found here
Please click here for the SEN section on our website
Click below to join us on a virtual tour of The Axholme Academy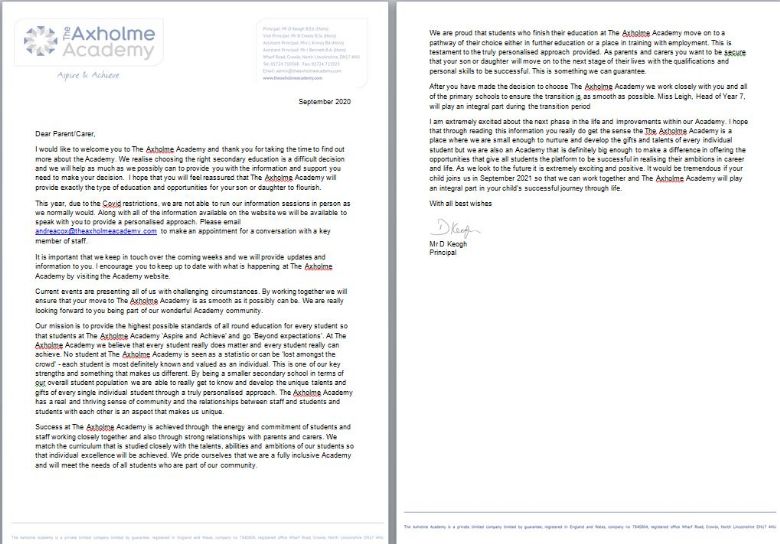 Click here to read Welcome letter 2021
Documents and Letters (pdf)