In this section...
Target Setting & Progress Tracking
How are targets set for my child?
The academy holds aspirational target grades for all students in every subject. Targets are based on year 6 SATS results (KS2) and converted to a target grade for students to achieve by the end of year 11.
Target grades are shared with Key Stage 4 students and parents. Tracking grades are shared with Key Stage 3 students and parents indicating whether a student is on track to achieve end of Year 11 targets.
How is my child's work assessed?
Teachers assess students continually during lessons to establish what they have learned. Students' work is assessed periodically to help teachers determine what grade a student is currently working at.
Additionally, all students sit annual exams which inform teachers' judgements. Students and parents receive a question level analysis (QLA) of each exam paper indicating how the student performed on each subject topic. QLA reports should be used by students to identify where to focus their independent study and revision.
How do I know if my child is on target?
Teachers use flightpaths to identify the grade a Key Stage 3 student is expected to be working at each term. Teachers compare a student's working at grade to their expected grade to determine whether the student is on track to achieve their targets.
The following tracking grades are reported to parents and carers of Key Stage 3 students each term:
R = Reaching
A = Almost
G = Got It
B = Beyond
Our tracking grades are illustrated below: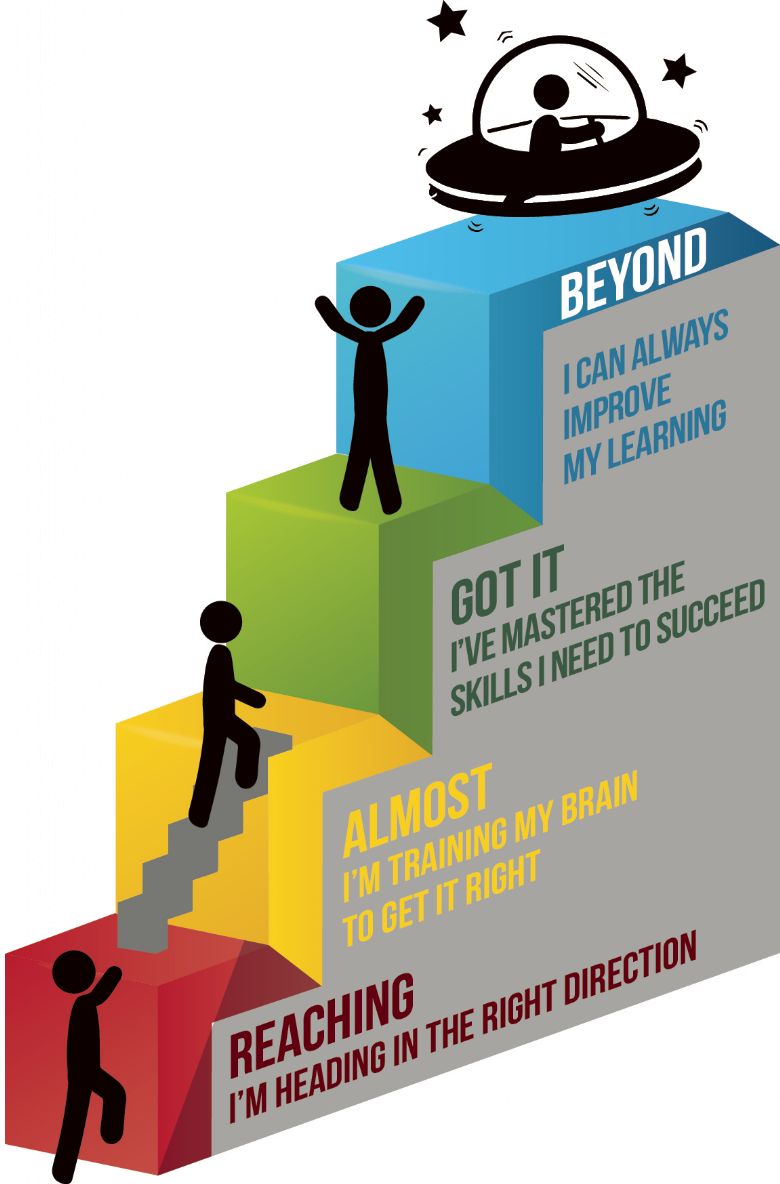 Tracking grades are also recorded in progress trackers held in exercise books. The example below shows a student working below their expected grade in the Autumn, almost in line with expectations in the Spring and working in line with expectations in the Summer.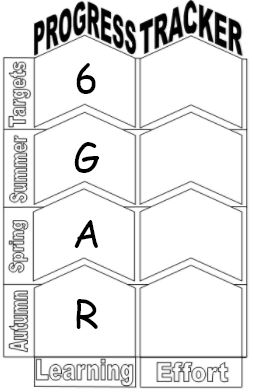 Key Stage 4 students are given predicted grades which indicate the grade teachers think a student is most likely to achieve if they continue with the same behaviour for learning and attendance for the remainder of the course. Predicted grades can be compared with target grades to establish whether a student is achieving above, in line with or below expectations.
What happens if my child is underachieving?
The best way for any student to achieve their potential is to put maximum effort into lessons. When tracking shows that a student is at risk of underachieving, we address this using a range of strategies in addition to normal timetabled lessons, including:
• Assertive mentoring
• Individual and small group tuition during Period 6
• 1:3 tuition
• Breakfast clubs
• Literacy support
• Literacy & Numeracy catch-up
What do I do if I have any concerns about my child's progress?
If you are concerned about how your child is achieving in a subject, please don't hesitate to contact the relevant subject teacher. If you have a general concern about your child's achievement, please contact their form tutor. Teachers and tutors can be contacted directly by email (FirstInitialSurname@theaxholmeacademy.com) or via reception on
admin@theaxholmeacademy.com
or 01724 710368.
How do I know that my child is really trying?
Every term the following Behaviour for Learning (BfL) Grades are also reported to parents alongside tracking grades:
Beyond – regularly demonstrates some outstanding learning behaviours
Got It – consistently demonstrates expected learning behaviours
Almost – does not consistently demonstrate expected learning behaviours
Reaching - rarely demontrates expected learning behaviours
These grades are arrived at through a process which involves the student reflecting on their learning behaviours and then discussing them with their teacher. The sheet below shows the exact criteria which are considered during this process.