In this section...
Progress Reporting
How are targets set for my child?
The academy holds aspirational target grades for all students in every subject. Targets are based on year 6 SATS results (KS2) and converted to a target grade for students to achieve by the end of year 11.
Target grades are shared within grades reports each half term.
How is my child's work assessed?
Teachers assess students continually during lessons to establish what they have learned. Students' work produced in class is assessed periodically to help teachers assess what learning has been retained over time and provide meaningful feedback.
Additionally, all students sit formal Retrieval Point Assessments (RPAs) to assess how much learning students can retrieve under formal assessment conditions. The outcome of RPAs are Strengths & Gaps (S&G) reports which feedback on how students performed on each subject topic covered by an RPA.
Strengths & Gaps reports contain links to recommended support resources and should be used by students to inform their independent study and exam preparation.
RAGB grades
For grades to be useful they must be easy for students, parents and carers to understand. We therefore use RAGB grades for all pieces of data except when sharing raw percentages or grades used by exam boards (1 to 9 GCSE grades for example).
We want all students to maintain a growth mindset and strive to go 'beyond' expectations in all they do. This value is represented by RAGB grades as below:
R = Reaching / Red / significantly below average
A = Almost / Amber / below average
G = Got it! / Green / average
B = Beyond / Blue / above average
Whenever we share RAGB grades, we encourage students to reflect on their latest performance and set meaningful improvement targets. RAGB grades encourage and enable students to do this.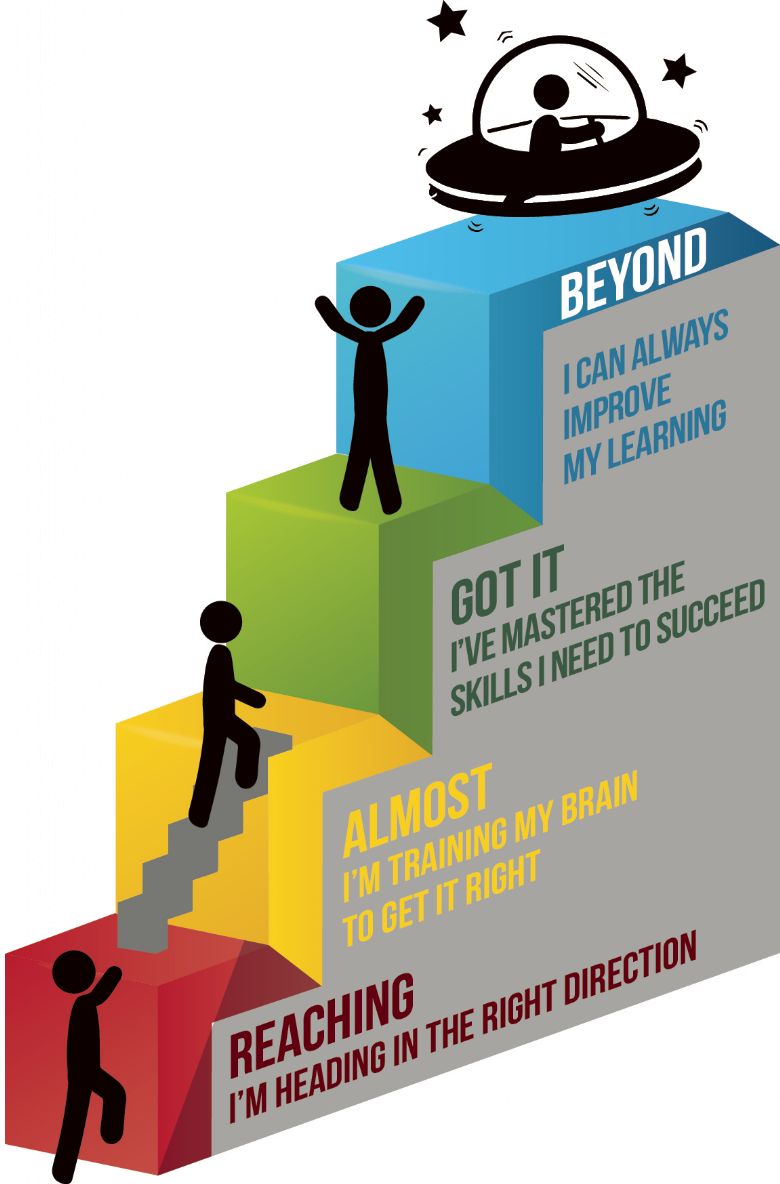 How do I know how well my child is performing?
Teacher Assessed percentages (TA%) are reported for every subject each half term. To help judge whether a particular TA% is satisfactory, a target group average percentage is calculated for groups of students with similar target grades. Teacher Target Group (Teacher TaG) grades represent how each student performed against the group average as follows:
R = significantly below average
A = below average
G = average
B = beyond average
It is typical for a student to receive a range of RAGB grades in a single grades report, with the majority being G and A grades.
If a student is awarded mostly R and A grades in a single grades report, or in the same subject over time - this would indicate an issue that needs further investigation.
Further technical information about how Teacher TaG grades have been calculated for each assessment series is available from the table below:
How do I know what GCSE grade my child will get?
End of Key Stage 4 predicted grades are shared termly during Years 10 and 11. Predictions are informed by classwork, independent work and mock exam performance, and reflect what grade a student is most likely to achieve if they continue to perform at their current level for the remainder of the course.
Predicted grades can be compared with target grades to establish whether a student is achieving above, in line with or below their aspirational targets.
How do I know how well my child is behaving?
During lessons staff record codes for students based on their conduct, these consist of:
Student Achievement Rewards (StARs)
Ready to Learn (R1, R2 and R3 codes)
Able to Learn (A1 and A2 codes)
These codes are used to calculate half termly RtL and AtL grades which are shared with students, parents and carers. Ready to Learn (RtL) and Able to Learn (AtL) grades are calculated from the following conduct codes:
Ready to Learn grades:
Student Achievement Rewards (StARs)
Disruptive behaviour
Late to lesson
Missing equipment
Able to Learn grades
Student Achievement Rewards (StARs)
Classwork not to standard
Independent work not to standard
RtL and AtL grades for students with a significant number of absences during the half term are capped as below:
Over 10 days absence = capped at R grades
Over 5 days absence = capped at A grades
What happens if my child is underachieving?
The best way for any student to achieve their potential is to put maximum effort into lessons and use our 6Rs approach to help retain learning over time. When tracking shows that a student is at risk of underachieving, we address this using a range of strategies in addition to normal timetabled lessons, including:
Assertive mentoring
Individual and small group tuition during Period 6
Ready to Learn intervention
Able to Learn intervention
Literacy intervention
What do I do if I have any concerns about my child's progress?
If you are concerned about how your child is achieving in a subject, please don't hesitate to contact the relevant subject teacher. If you have a general concern about your child's achievement, please contact their form tutor. Teachers and tutors can be contacted directly by email (FirstInitialSurname@theaxholmeacademy.com) or via reception on admin@theaxholmeacademy.com or 01724 710368.