In this section...
School Uniform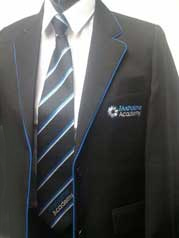 Here you will find the link to our suppliers Uniform Direct where you can order straight from them.
The website for the school uniform is : uniform-direct
PE kit supplied by Design Box
Tel: 07824504570
Email: cheryl.designbox@hotmail.co.uk Website: Design Box
Academy Uniform
Girls

Boys

Black blazer embroidered with Academy Logo on pocket

White blouse/shirt with collar (Long or short-sleeved)

White shirt with collar (long or short sleeved)

Clip on Academy tie

Plain black, loose fitting, formal school trousers or plain black, loose fitting skirt worn at knee length

Plain black, loose fitting, formal school trousers

Plain, strong, sensible black shoes (no boots or trainers)

Plain, strong sensible black shoes (no boots or trainers)

Black or nude plain tights, black or white ankle socks or bare legs

Black socks

PE Kit

Black and blue sports polo shirt with embroidered Academy logo

Black shorts with embroidered Academy logo

Plain black sports socks

Reversible black and white rugby shirt with embroidered Academy logo

Trainers, hockey/football boots and shin pads

Optional items

Academy Jumper or cardigan with logo and royal blue stripe to be worn under the blazer

Plain black belt

NO HOODIES/FASHION ITEMS TO BE WORN WITH UNIFORM

Hair

No extreme styles or colours (natural colours only).

Please contact the school beforehand if you are in any doubt as to whether a particular hairstyle is deemed extreme or hair colour is deemed unnatural.

Students found to have an extreme hairstyle or unnatural hair colour will be placed in isolation until a timeframe for resolving the matter is agreed with parents/carers. Failure to reach a resolution within a reasonable timeframe may result in a lengthy period of isolation.

Make Up

No make-up, nail varnish or false nails allowed in school

Jewellery

Jewellery is considered to be unsuitable for school and the school does not accept any responsibility for any such items, including watches etc. However, the following may be worn:

One pair of round gold or silver plain studs, one per ear lobe.
Digital, analogue or smart watches (smart watches can be worn but must not be used to interact with a mobile device in school).

All jewellery must be removed for activity lessons.