In this section...
Computer Science
Computer Science
This course gives an insight into what goes on 'behind the scenes' in computing, including a real, in-depth understanding of how computer technology works.
Through this qualification you will:
· Develop your understanding of current and emerging technologies and how they work
· Look at the use of algorithms in computer programs
· Become an independent and discerning user of IT
· Develop computer programs to solve problems
The course provides excellent preparation for higher study and employment in the field of computer science. The increasing importance of information technologies means there will be a growing demand for professionals who are qualified in this area. Students who've taken a GCSE in Computing and who then progress to study the subject at A Level or university will have an advantage over their peers who are picking up the subject at these levels.
Independent Learning
Independent learning is important throughout this course as you will be expected to complete research and other activities outside of the classroom.
Course Structure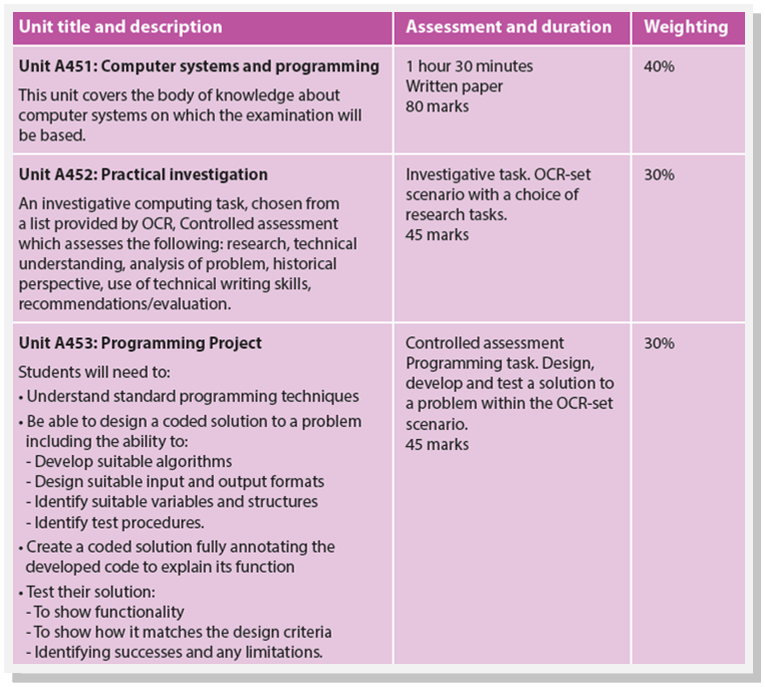 Computer Science involves a steep learning curve for students without previous experience of computer programming. Students interested in studying this subject during Key Stage 4 are encouraged to use the eLearning website linked below to develop their programming skills, particularly programming in Python.